[caption id="attachment_857" align="alignnone" width="300"]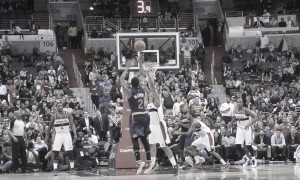 Eric Bledsoe is back in Phoenix, which means the Suns can expect he and teammate Goran Dragic to take over plenty of games this season.
(Photo Courtesy ~ Joe Glorioso / @JoeGlo1 / CSNWashington / Hoop District)[/caption]
The Suns are spending $29.3 million on the point guard position in '14-'15, the most of any team in the NBA, according to spotrac.com. Much of that can be attributed to Phoenix amping up its bench with mighty-might scoring guard Isaiah Thomas and first round pick Tyler Ennis. But what swelled Phoenix's spending on lead guards past the other 29 teams is Wednesday's re-signing of Eric Bledsoe.
Phoenix has agreed to a 5-year, $70 million deal with its restricted free-agent. Bledsoe and agent Rich Paul (obligatory remark about Paul also being the agent of LeBron James) were demanding a maximum contract, which would have landed in the $80 million-plus range. Phoenix low-balled Bledsoe to the tune of a 4-year, $48 million offer, something it could afford to do with Goran Dragic on roster; the Suns added insult to injury when adding Thomas and drafting Ennis months before dealing with Bledsoe.
The feeling was Phoenix must have been OK with losing the cheetah-quick guard, that it refused to overpay for Bledsoe's services no matter what. What we know now is that the Suns were simply employing a shrewd business strategy.
Bledsoe was a restricted free agent, and teams have historically been scared off by the all-for-not nature of bidding on another team's guy. Much publicized during the Chandler Parsons-to-Dallas chapter of the off-season was how an incumbent team (Houston) can stall up to 72 hours — and in some cases even longer — before deciding to match a rival team's offer. That leaves the rival team in a difficult position: Do we put all of ours eggs into one basket when the incumbent team holds the cards, or do we look elsewhere?
Dallas chose correctly because of the confluence of the Parsons signing and the waiting game of The Decision: Part Two. Other teams like Charlotte, which made a max-level bid on Gordon Hayward, failed to land their target because Utah had no intention of losing their free agent. (For the record: Many rumors linked Phoenix to Hayward before the Suns opted not to make an offer. It goes without saying Phoenix would not have been able to afford both Hayward and Bledsoe, but ultimately, Phoenix realized Utah was never going to let Hayward go.)
Bledsoe, 24, was the talk of the basketball over the past month — there isn't much else to talk about around NBA circles in late-August and September — as a player of his ability and his age seldom collects dust on the market like he did. The closest example, actually, might have been Lance Stephenson's free agency from this summer. Stephenson, 23, was on the market because he was a second-round pick, but his talent and age made him a coveted player this summer. Stephenson is thrice the headache as Bledsoe, and in many ways a less proven player despite logging significant minutes for a playoff contender the past two seasons. Charlotte, long predicted a threat to steal the 8th Grader from Indiana by Zach Lowe, inked the guard to a 2-year, $18 million deal with a team option for a third season — a contract, interestingly enough, much smaller in length than what Indiana offered Stephenson.
Bledsoe was never going to settle for a two-year contract, but contract length was never in question between he and Phoenix. The battle was over salary. The Kentucky Wildcats product fancied himself a max-level player (he averaged 17.7 points and 5.5 assists a year ago) but the Suns felt differently (he didn't lead his team in either category).
What would have changed the nature of negotiations for Bledsoe is if another team made the maximum offer that he so desired — an offer that never came. The reason is less about Bledsoe's talent and potential, which are both enormous, but rather the position he plays, and how feasible finding quality lead guards has become in the modern NBA. There is a dearth of teams that need a point guard among those that are trying to win basketball games next season (that excludes you, Philadelphia). A team like Atlanta had the cap space to make a large offer to Bledsoe, but they already have Jeff Teague. While there is little dispute Bledsoe is the better player, Teague also costs a manageable $8 million — a number that shifts from valuable to costly if Teague is demoted to the team's bench. (I'm also not sure Bledsoe, a career 32.7 percent three-point shooter, would fit into what the Hawks are doing offensively. Although, Bledsoe did shoot an intriguing 40.9 percent on shorter three-pointers, up to 24 feet, last season, according to NBA.com.)
The Lakers are another team that came to mind that had the money to spend and could use an upgrade at point guard. Throughout their pursuit of Carmelo Anthony, I thought it was odd the Lakers were ignoring a better option. Bledsoe seems like the perfect pupil for Kobe Bryant, a young player with a realistic combination of Bryant's athleticism and intensity. Offering Bledsoe the max is a non-issue for the Lakers, who both had cap space galore and are making money hands-over-fist. A Bledsoe/Bryant backcourt, if (when?) healthy is more than formidable, and the collection of veterans they added on short-term contracts (Carlos Boozer, Ed Davis, Jordan Hill) would have remained on the market. While trading for one-year of Jeremy Lin did net the Lakers a first-round pick, it also guarantees Los Angeles will be a train wreck defensively. Bledsoe could have been the present and future for L.A. Instead, it appears that player is Nick Young.
The Lakers, or any other team, failing to make a substantial offer to Bledsoe in July and August was a surprise. That it took as long as it did for Minnesota to get involved may or may not have to do with the complicated, franchise-altering trade they completed with Cleveland, finally, in late-August. The Wolves are everyone's League Pass darling a month before the season kicks off; if Ricky Rubio isn't averaging 2.5 alley-oops per game this season I think we will all be shocked. Bledsoe would have fit in there somewhere but talented basketball players can be placed into any situation — that's the entire nature of international competition, no? That doesn't mean Minnesota would be an ideal fit for Bledsoe. Phoenix is a playoff team with Bledsoe back; Minnesota is lottery-bound either way. Money is money, but I was dubious of the Wolves rumors because I can't imagine Bledsoe was interested in missing the playoffs AND playing in Minnesota. (For what it's worth, Andrew Sharp sold me on how brilliant Bledsoe to Milwaukee would have been.)
Basketball has a way of working itself out, however, and Bledsoe and the Suns focused their negotiations in time and came up with the perfect number. Bledsoe will make $13 million this year, and his annual salary increases by $500,000 each season, so that in the fifth year of the deal he will be making $15 million. He is now the seventh-highest paid point guard in the NBA, ahead of champions Rajon Rondo and Tony Parker; he is also costing his team less than Lin is costing the Lakers. $13-15 million per season seems right for a 24-year-old bull of a lead guard, who is among the Association's toughest perimeter defenders, and has a special chemistry with Phoenix's other top player, Dragic.
It's also worth noting that the looming TV contracts that will spike the NBA's salary cap for years to come is a factor. In terms of NBA salaries, $15 million in 2018 will simply mean less than it did in 2014, and Bledsoe by all accounts could be a perennial All-Star by that point. And even if he is not, his talent level, and his fit in coach Jeff Hornacek's system next to Dragic nearly snuck a Suns team with ghastly preseason expectations into the Wild West West playoffs. His value to what Phoenix is doing is incredibly high, and losing Bledsoe for nothing, or limited compensation, on the market would have been disappointing for the Suns, even with additions of Thomas and Ennis.
Considering how often guards are entrusted with the basketball, a strong, talented backcourt is invaluable to a good team. This is the leading argument for Golden State hanging onto Klay Thompson this summer — although I still disagree with their decision not to trade him for Kevin Love — as the Curry/Thompson combination is clearly the franchise's priority. In addition the their lethal combination of perimeter shooting, Thompson can guard the opposing team's best ball handler, a critical skill considering Curry's deficit of size and defensive prowess.
Dragic and Bledsoe, in a much different way, have become inseparable to Phoenix. Both combo-guards, really, Dragic and Bledsoe's shared ball-handling and scoring duties are invaluable to Hornacek's philosophy. This is why the team has spent close to $30 million on point guards, and appear to have four players who will rotate in and out of the game like hockey lines. The future of this team and what Hornacek wants to do is at point guard, and Bledsoe was someone that could not lose if they imagine themselves as a playoff team this season.
---