Welcome to my power rankings on behalf of myself, Joe Mags and The High Screen team. The Spurs claimed revenge in dominant fashion last year, the way they bashed Miami in the finals. However, think back to when Vince Carter made that fallback corner three to give Dallas a 2-1 lead in the 2014 first round series. I get a kick out of Gregg Popovich at 19 seconds in the video. He walks off the court in disgust about two months prior to comfortably winning the 2014 NBA title. Mavs owner Mark Cuban also has a notable scene at 35 seconds where he does an entertaining celebration act.
Any who, I want to keep this introduction brief so let me get into it. This is where the league stands on the eve of opening night.
30. Philadelphia 76ers (2014: 19-63, 14th East) The Sixers had a large amount of draft picks — I believe six is the exact amount. It is clear they are all-in for the future.  They chose an injured but worthy Joel Embiid no. 3 overall, as well as Dario Saric, who is not expected to play in an NBA game for two years. This organization is highly fortunate after the failed recent attempt to activate the lottery reform.
29. Utah Jazz (2014: 25-57, 15th West) Utah added on accordingly to its young core. The Jazz now have a competitive group of young players in Dante Exum, Trey Burke, Alec Burks, Gordon Hayward, Derrick Favors and Enes Kanter. It will be interesting to see how Burke and Exum coexist at guard considering Exum was mainly labeled a point guard overseas.
28. Orlando Magic (23-59, 13th East) Victor Oladipo, not far behind Michael Carter-Williams for Rookie of the Year in 2014, recently suffered a facial fracture causing him to be out indefinitely. Orlando likely won't rush him back as winning games is not as much a priority as Oladipo's long-term health; Evan Fournier, acquired from Denver in the Arron Afflalo trade, may start alongside Tobias Harris as the other wing.
27. Minnesota Timberwolves (40-42, 10th West) Kevin Love's career averages of 19 points and 12 rebounds were not enough to lead Minnesota to the playoffs in his six years there. Management felt it was time to move on and I think it made a wise decision. Getting value in return was not a problem for the Wolves as they were offered a couple appealing deals. It was a tiring process but the T'Wolves got plenty of assets: first pick Andrew Wiggins, Anthony Bennett and Thaddeus Young on top of their no. 13 pick Zach LaVine.
26. Milwaukee Bucks (15-67, 15th East) Milwaukee was not an efficient team last year by any means. It was not expected to be a postseason team but some players did not perform up to their full capability. Highly intriguing high school prospect and Duke standout Jabari Parker makes a big difference in the longterm and changes the team in the short-term. This team is very deep with young role players like Giannis Antetokounmpo, Jerryd Bayless, and Khris Middleton.
25. Boston Celtics (25-57, 12th East) It feels like we have been talking about this forever but a Rajon Rondo trade is likely due to happen soon. Boston's choice of Marcus Smart at sixth in the draft strengthens the case for that. The Celtics already have a handful of future picks and nicely developing young players in Avery Bradley and Jared Sullinger. Trading away Rondo should bring in pieces necessary to help make them a playoff team in the next three years.
24. Indiana Pacers (56-26, ECF) It is crazy how things change so quickly. Last year Indiana played like a true contender in the first half of the season. It feel into a slump that carried into the playoffs, despite advancing to the conference finals. X-factor shooting guard Lance Stephenson decided to leave for Charlotte for basically the same amount of money Indiana offered him. Paul George suffered a broken ankle during FIBA play in the summer. Will Indiana compete to the fullest or settle for a lottery pick?
23. Sacramento Kings (28-54, 13th West)  Sacramento made a couple blockbuster deals last season, which brought in high-caliber swingman Rudy Gay and Derrick Williams, a prospect who really needs to prove his worth this year. Sacramento does not seem too worried about losing Isaiah Thomas to the Suns. In fact, Isaiah Thomas is evidently content with moving onto a new organization. The Kings replaced him with a cheaper Darren Collison, who is a good floor general but may not impact them as much as the crafty scoring point guard.
22. Detroit Pistons (29-53, 11th East) I think it is fair to say the Pistons were chronic under-performers last season. As a longtime season ticket holder, I definitely expected the Pistons to be a more competitive team. Ultimately their signings of Brandon Jennings (about $8M/year) and Josh Smith ($13.5M/year) fell short. However, it is a new season and Detroit has a new coach, Stan Van Gundy, who is a better motivator than Detroit's previous few coaches. The young and improving Andre Drummond has sky-high expectations entering this season. He averaged over 20 points and 20 rebounds per 100 possessions last year.
[caption id="attachment_796" align="alignnone" width="300"]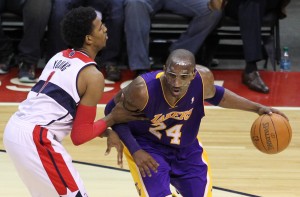 Kobe Bryant returns to the floor in 2014-15. This is great for the NBA; a possible headache for new teammate Nick Young; and enough to make the Lakers one of the most fun teams to watch on League Pass this season. (Photo taken by Keith Allison)[/caption]
21. Los Angeles Lakers (27-55, 14th West) Following the 36-year-old's two major procedures, Kobe Bryant may be receiving more doubt than ever. The Lakers had a historically bad year in '13-'14 with Bryant sidelined for the majority of the games. Bryant is owed $53.5 million over the next two years and is getting bombarded in the media about causing the franchise difficulties going forward. The Lakers are in a period of struggle that most teams have to go through. He has brought the Lakers five of their 16 championship banners. I am looking forward to watching even an old, less-athletic version of Kobe have another respectable season.
20. New York Knicks (37-45, 9th East) The Knicks fell all the way from second seed in the East to out of the playoffs in one year. There may have been a scare during the process, but Phil Jackson was successful at keeping Carmelo Anthony in New York by paying him $124 million over five years. However, New York tossed away a lot of cash and must surround Melo with better talent by next season at the latest. I am dubious that the Knicks actually improved this offseason after trading Tyson Chandler to the Mavs for Jose Calderon and Samuel Dalembert.
19. Brooklyn Nets (44-38, East Semis) Mikhail Prokhorov's proclaimed five-year plan did not meet expectations. Trading away Derrick Favors and a bunch of valuable picks in order to receive Deron Williams, Joe Johnson, Paul Pierce, and Kevin Garnett over the course of a few seasons has not paid off. Williams was great his first year in Brooklyn but has appeared to lose his All-Star form ever since.  The organization went for it all last year, and as a result, Brooklyn is not in the most ideal position moving forward.
18. Denver Nuggets (36-46, 11th West) Denver has made it clear it will continue to compete in a rough Western Conference. This team was not in playoff contention for most of last year but got stronger this offseason by getting back Arron Afflalo. The Nuggets also drafted a well-rounded two-guard in Gary Harris with the 18th pick. Health will be a major factor in Denver's attempt to return to the postseason as Danilo Gallinari and JaVale McGee have been inactive the majority of the past two years.
17. Phoenix Suns (48-34, 9th West) Rookie coach Jeff Hornacek did a phenomenal job leading a Phoenix team that was not supposed to get a whiff of playoff contention. He had a quietly deep squad paced by Goran Dragic, and Eric Bledsoe and P.J. Tucker helped make Phoenix's defensive attack fairly strong. The Suns were in the playoffs until the last game or two, when Memphis stole the eighth seed. I think we are all curious to see if Phoenix can make another impressive run.
16. New Orleans Pelicans (34-48, 12th West) I strongly feel this squad is capable of making a run for the playoffs. Anthony Davis averaged 20 and 10 last year along with 2.8 blocks and established himself as one of the ultimate franchise players. Injuries may have held the Pelicans back from being close to a .500 team last season. Jrue Holiday, Eric Gordon, Tyreke Evans and Ryan Anderson have all missed significant time recently. I believe getting Omer Asik to play alongside Davis is possibly the most underrated offseason acquisition.
15. Atlanta Hawks (38-44, first round) The Hawks were in good standing in a weak Eastern Conference last year until they lost Al Horford to a season-ending injury. Jeff Teague and Paul Millsap kept them somewhat competitive but they clearly were not capable of much without Horford… and then they nearly knocked off top-seeded Indiana in the first round. Role players like Mike Scott caught fire and Kyle Korver (led league with 47.2 3P%) kept their outside shooting dangerous enough to give the Pacers a big scare. The Hawks are currently up for sale after Bruce Levenson sold the team due to a social controversy.
14. Memphis Grizzlies (50-32, first round) Memphis will be in the mix for the playoffs as long as it has Mike Conley, Zach Randolph, Marc Gasol and decent role players. The Grizz have ranked in the top ten in defensive efficiency each of the past four years. Even as a lower-seeded playoff team, the Grizzlies are not an easy team to face in the first round as they have proved time and time again — upset top-seeded Spurs in '10-11, split the Clippers the following two years, made the 2013 conference finals and took OKC to seven games last year.
13. Washington Wizards (44-38, East Semis) I think the Wizards exceeded most people's expectations last year and they had a great opportunity to reach the conference finals. Their lack of late game playoff experience is what held them back most against a vulnerable Pacer team. Coming into this year, I anticipated this improving organization to be a top four seed in the East. However, Bradley Beal is likely to miss a month or more with a fractured wrist. That means it is time for Otto Porter to showcase his talent and prove his worth as the third pick of the 2013 draft.
12. Charlotte Hornets (43-39, first round) As an upcoming team trying to compete with the best, it is important to have veteran talents as well as young players to complement them. Charlotte has done a great job putting together a roster that includes both. Al Jefferson, who Charlotte signed to a three-year, 41-million dollar deal last offseason, is well known as a dominant offensive force down-low. Al Jeff had one of his most efficient years last season and he averaged nearly 22 points and 11 boards. The Hornets have done a great job saving money. They were able to reel in vicious two-way guard Lance Stephenson for $27 million over three years. Stephenson joins Kemba Walker to form a dangerous backcourt.
11. Miami Heat (54-28, Finals) There was nothing more Miami could have done to stop LeBron James from going back home. James made it clear his desire was to return to Cleveland at some point, he just didn't know exactly when it would be. But here we are. It is obviously brutal losing a once-in-a-lifetime player like James. However, Miami's efforts to both try and keep James and then replace him cannot go unnoticed. The Heat signed Luol Deng, who is among the league's most qualified players to defend James. They also added Josh McRoberts, Danny Granger and draft pick Shabazz Napier. Last but certainly not least, 32-year-old Dwyane Wade's health will be the name of the game this season.
10. Houston Rockets (54-28, first round) The Rockets have two proven superstars in James Harden and Dwight Howard. Sure. But they have certain flaws that hold them back from being an elite team: First of all, there is no way your team should be ranked 18th in points allowed in the paint per game with Howard protecting the rim. Secondly, Houston ranked right with Boston and just ahead of Philly with the second most turnovers per possession. This team needs to control the ball a lot more and it especially needs more ball movement. Despite having two game-changing superstars, I am not convinced Houston makes it out of the first round this year.
9. Toronto Raptors (48-34, first round) The Raptors were the pleasant surprise of the Eastern Conference last season. Kyle Lowry went from being a pretty good point guard to a borderline all-star. DeMar DeRozan made his first all-star appearance as a super athletic wing scorer (31 points per 100 possessions); a more consistent jumpshot may be the only thing standing between him and the next level. The Raptors were not far behind the first place Bulls in fourth quarter points allowed per game last year. Toronto added Lou Williams, a high-volume scorer off the bench, to its tremendously deep roster.
8. Oklahoma City Thunder (59-23, WCF) Kevin Durant's foot injury is expected to keep him out up to two months. His estimated wins added last season were 2.8 higher than LeBron's and nobody was close to those two. OKC is potentially shorthanded if players outside of Westbrook and Ibaka are not immediately productive. I strongly feel Reggie Jackson should get a lot of time at guard. Big man Steven Adams showed us in the ladder part of the season he has a higher ceiling than some may have assumed (eight points and ten rebounds per 36 minutes.) Jeremy Lamb shot well percentage-wise last season but only played 19 minutes per game. Without Durant, the Thunder are just another competitor in the West.
7. Golden State Warriors (51-31, first round) Steve Kerr has taken over Dub Nation as a first-time head coach. However, he has positive experience in other areas: Played 15 years in the NBA, shot 45.4% from three and won a few championships. He also has credible experience as an NBA broadcaster as well as a general manager. Maybe the front office firmly expected more than a first-round exit in the 2014 playoffs. Stephen Curry has blossomed into Golden State's golden child. The lights out guard from Davidson shoots a career 44 percent from deep and has made well over three triples per game in each of the past two seasons.
6. Dallas Mavericks (49-33, first round) The Mavs were only two losses away from missing the playoffs last year. As an old and highly experienced team last year with guys like Vince Carter and Sean Marion on top of Dirk Nowitzki, the Mavs were almost able to upset the NBA champion Spurs. They were not particularly strong on the defensive end last season. However, the duo of Dirk and Monta Ellis kept their offensive motor running smoothly. Dallas was ranked among the top in several offensive categories including three-point percentage and free-throw percentage. Getting Tyson Chandler back was an absolute steal. Chandler Parsons is a very active wing who fits perfectly in Rick Carsisle's offensive scheme. Do not be surprised if Dallas plays like a true Western Conference contender.
5. Portland Trail Blazers (54-28, West Semis) We know from last year that Portland is a highly capable team. The Blazers were not expected by most to compete with the elite teams in the West. However, they got off to an incredible start and were led by two terrific talents in Damian Lillard and LaMarcus Aldridge. Aldridge made a strong case for the best power forward in the NBA last year. He had a career season, averaging 32 points and 15 rebounds per 100 possessions. But Aldridge and Lillard are not just ordinary All-Stars; both players are clutch (here are Lillard's game-winners last season including his three to eliminate the Rockets in Game Six). Portland also has other top-notch outside shooters in Wes Matthews (39.5 3P% and 2.6 threes per game in last two years) and Nicolas Batum. One weakness Portland must address is bench scoring in which it ranked at the bottom of the league the past two seasons.
4. Cleveland Cavaliers (33-49, 10th East) LeBron was able to somehow carry the 2007 Cavaliers to the Finals with minimal help. He won two rings in Miami and was obviously the key to success for making four straight finals appearances, even in the last two years when Wade was somewhat shaky and inconsistent. The team James has around him now may be the best he has ever had. Kevin Love and Kyrie Irving are two young superstars. However, it is not only the Big Three that makes this team one of the favorites in the East. Everyone on the roster benefits when King James is on your team. Expect that to translate to better production from Dion Waiters, who has already shown his ability to get buckets easier with James on the floor. James also brought along shooters Mike Miller and James Jones, whom both played on Miami's back-to-back title squads in 2012 and 2013.
3. Chicago Bulls (48-24, first round) Cleveland obviously had the best offseason but Chicago also made a lot of noise this summer. Derrick Rose finally appears healthy and at full strength. Of course, everyone is curious to see if he can be that MVP-caliber player he was in 2011. At the very least, I think Rose is definitely a top five point guard. Tom Thibodeau has found a way to keep the Bulls relevant even through Rose's long absence due to their overwhelming aggression on defense. They ranked first in defensive efficiency in 2011 and 2012 and second last season. The one major weakness holding Chicago back has been a lack of consistent outside shooting. However, they addressed that need this offseason adding 2014 College Player of the Year Doug McDermott as well as other respectable midrange shooters like Pau Gasol and Nikola Mirotic.
2. Los Angeles Clippers (57-25, West Semis) Everyone is aware the Clippers now have one of the most talented rosters in basketball. They have an excellent motivator in Doc Rivers and an exemplary point guard leader in Chris Paul, who has yet to reach a conference finals. It is no secret Paul wants to win. We see his high emotion in the playoffs. Depth is certainly not a problem with this team as it gets great bench production from Jamal Crawford. DeAndre Jordan had a breakout season in '13-'14 (13.6 RPG, 2.5 BPG) and really learned how to be an efficient post defender. Year after year, Paul and Blake Griffin show their tremendous chemistry together. They are both guaranteed All-Stars (when healthy) who are basically impossible to stop in areas like the fastbreak and pick and roll. This summer's biggest addition was Spencer Hawes, who should provide them with much needed stability as a backup to Jordan/Griffin.
1. San Antonio Spurs (62-20, Champions) We see their Big Three continue to grow older and older, yet they just continue to get stronger. However, Popovich has always made sure he gets an ideal amount of support outside of Tony Parker, Manu Ginobili and Tim Duncan. Kawhi Leonard was actually the guy who won Finals MVP last year. In my opinion, there is nobody in the league better at defending James to the point where he is out of steam. But then there are several other role players who do their job the right way — Boris Diaw, Tiago Splitter, Marco Belenelli, Danny Green, etc. The Spurs will continue to be a legit defensive squad with Duncan holding down the paint and Leonard's scrappy perimter defense. They will also continue to be a highly efficient shooting team from most areas of the floor with Parker, Bellinelli, and Diaw being great midrange shooters and Danny Green (NBA Finals record 27 threes) leading their perimeter shooting attack.
---