Jim Boeheim knew this would be a challenging year in upstate New York. The Orange were ranked as the No. 1 team in the country for parts of last season, but with the losses of C.J. Fair (graduation), Tyler Ennis (drafted in first round) and Jerami Grant (WHY????), expectations had to be different.
Syracuse entered this fall knowing it would have to rely on upperclassmen such as Rakeem Christmas and Trevor Cooney — career role players who suddenly found themselves with much more two-way responsibility — as well as freshman newcomers Kaleb Joseph and Chris McCullough. After a tough non-conference slate which the young Orange finished 9-4, it seemed like the pieces were finally starting to click, at least defensively. They even won their first two ACC games on the road against Virginia Tech and Georgia Tech.
On Sunday the Orange were well on their way to completing their third straight ACC win in their home-opener against Florida State, when the basketball Gods drove through an item box and laid down the nastiest banana peel imaginable: McCullough, arguably the team's most talented player, went down. By Monday, we learned he had torn his ACL, and his season was over.
[caption id="attachment_2338" align="alignright" width="225"]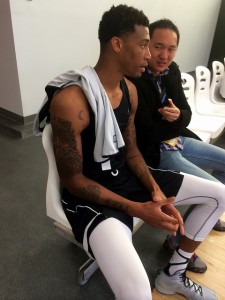 Chris McCullough. (Photo provided by Bryan Horowitz)[/caption]
For many, the first thought when hearing about McCullough's injury is how it will affect his draft status. After all, it was largely expected that McCullough would be a one-and-done talent for Syracuse — despite Boeheim's best efforts to publicly discredit his ability to play in the NBA. Falling somewhere between the uninspiring first-year production of Donte Green — he was once presented as the "next Carmelo" — and the aforementioned Ennis, McCullough was having a good-not-great freshman campaign before the injury. With all of that potential, and three years of college eligibility left, it was hard to imagine a non-center with zero three-point range, shooting 56 percent from the charity stripe and with less than double-figure scoring was going to make the leap to the NBA. The injury, in regards to McCullough's draft status, set in stone his return to Syracuse next season. That is what's best for everybody involved, not the least of which is Boeheim, who will lose a little less sleep at night knowing he has a returning starter for next season.
The bigger story for college basketball fans, then, is how exactly this injury will affect Syracuse over the next few months. I predicted they would finish just outside the elite of the ACC. Now without their best athlete, is something like fifth-place in the ACC still in play? First, let's try to determine how much of the Orange's 13-4 play thus far can be traced back to McCullough.
McCullough certainly got off to a hot start in a Syracuse uniform. The Bronx native shined in his home city when Syracuse played at Madison Square Garden in the NIT Season Tip-Off. After scoring 12 points in a loss to Cal, McCullough showed his potential brilliance with a 20-point outing in a win over Iowa. He shot 7-12 from the field and also had nine rebounds, two assists and three blocked shots. In fact, McCullough was so impressive early that he scored in double figures in his first eight games of the season. It seemed obvious he was on track to be SU's best, most consistent offensive threat — an amalgamation of all the best attributes from former Orange Fair and Grant.
But over the last month, McCullough had simply not been the same player. McCullough last scored in double-figures (13 points) on December 6 in a loss against St. Johns; in his final eight games of the season, McCullough averaged 4.3 points (he scored four points in eight minutes against Florida State). Over that horrendous stretch, the freshman had only one game with multiple made baskets — he went 3/4 FGA in a 16-point victory against Cornell, finishing with six points.
McCullough's minutes noticeably dropped in those eight games, and he was shooting less, making much less of an impact on the offensive end of the floor. It wasn't only McCullough's scoring that had gone down, but his shots as well. McCullough didn't take more than seven shots at any point during those last eight games.
All of this makes it complicated now that he is out for the season. On the surface, it appears his absence the rest of the year will only marginally hurt Syracuse. McCullough was just fourth on the team in plus/minus heading into the team's OT victory against Wake Forest. As mentioned, he had been losing shots offensively, with the offense instead running through Christmas, Cooney and Michael Gbinije. Syracuse's best lineup in terms of plus/minus on the season did include McCullough, but that unit only played 18 total minutes together this year. The second, that played over 53 minutes, did not include McCullough, featuring Christmas, Cooney, Tyler Roberson, Gbinijie and Ron Patterson, according to Syracuse.com.
McCullough was still making an impact defensively, with his length and athleticism on the wing of the 2-3 zone, but Syracuse will likely remain one of the top defensive units in the ACC because of Boeheim's insistence on recruiting players at every position who fit his scheme. Still, losing McCullough is going to hurt Syracuse, for two major reasons. First, their lack of depth. Sure, McCullough had been largely ineffective in recent games, but he still was playing more than 20 minutes a night. Those minutes have to go somewhere. And this year's team, like so many in the second half of Boeheim's career in Syracuse, is thin on the bench — sometimes because of its coach's stubborn treatment of underclassmen, and sometimes, like this season, because of a lack of eligible bodies.
Even with the emergence of Patterson on the wing as a dependable option, Syracuse is now extremely thin in terms of its rotation. Joseph and Cooney remain the starters on the wing, while Patterson will play significant time off the bench. Michael Gbinije, Tyler Roberson and B.J. Johnson can play at the 3/4 spots with one of the latter two likely replacing McCullough in the starting lineup, while Christmas remains the only reliable big man. Chinoso Obokoh will probably play more often, but if his minus-9 over five minutes against Florida State is any indication, he is not ready.
https://www.youtube.com/watch?v=RrUHenbP-Cs
In Cuse's most recent win over Wake Forest, we got our first look at what Boeheim's new rotation will look like, and if it's any indication for the rest of the season, it's not a particularly promising look. It's a good thing that these Cuse players are college students in the best shape of their life, because there is going to be absolutely no rest coming for the big names on this Syracuse team. Cooney and Christmas played all 45 minutes, while Roberson got a solid one minute of rest and Michael Gbinije clocked in with a cool 42 minutes. Patterson and Joseph played 23 minutes apiece, and Johnson played only three; no other Orange player checked into the game at all. That's effectively a six-man rotation, with a single capable center manning the middle of their invaluable zone defense. I see fire.
Syracuse was fortunate enough to escape with a win over Wake, but their lack of depth was the main culprit in their inability to close out the Demon Deacons late in regulation. Wake scored the most points of any team against Syracuse this season (83), got to the free throw line 19 times, and out rebounded Syracuse, 43-39. Thanks to monster games by Cooney and Christmas, SU was able to stay undefeated in ACC play, but I'm wondering how long these two are going to be able to keep Syracuse above water during conference play this winter.
Syracuse was able to avoid getting into any serious foul trouble, so we didn't see what the lineup would look like if Cooney, Christmas or Gbinije had to sit with foul trouble (Gbinije and Christmas ended up with four but never sat because of it). This is bound to happen at some point in the season, and it could expose Syracuse's lack of size in the middle with McCullough not in the lineup. If Christmas gets in foul trouble, SU will likely have to play small, and could get killed on the boards and inside against their zone. Having McCullough's size and athleticism at least gave SU a little bit of flexibility with their front line, but now that's gone.
The other way in which this injury will hurt Syracuse is that Johnson and Roberson do not have the same basketball ceiling that McCullough has. Just look at the aforementioned Iowa game as an example. Those 20 points were the absolute difference in the game, and McCullough looked like the best player on the floor, as he did several other times early in the season. While it's obvious McCullough was in a pretty significant slump, it's not an accident he was the best SU player for the first eight games of the season and was a Top-25 recruit coming into the year. Even if McCullough doesn't play another second of basketball for Syracuse, he could very well end up being a first-round draft pick.
https://www.youtube.com/watch?v=eYDZHAGOfE8
No other player on Syracuse can match McCullough's athleticism and offensive potential. He had a long way to go, sure, but just having McCullough on the floor as a scoring threat was essential in opening things up for players like Christmas and Cooney. On a SU team that often times can't score to save its life, losing its fourth-leading scorer and perhaps most talented overall player is going to place a limit on where they can go in such a loaded conference.
The question then becomes can Syracuse stay in the hunt for the NCAA tournament without McCullough? They managed okay in the rest of the game against FSU, in large part due to Trevor Cooney's dynamic shooting performance,  the kind of night that Syracuse will need much more regularly in order to sniff 20 wins this season. Against Wake Forest, Christmas had a career day which saved them from their first conference defeat. Patterson, Roberson and Johnson have larger roles to play now, and Gbininje, playing the best basketball of his life, has to be primary play-maker in transition and with drives to the basket. Joseph's uneven season has screamed "Freshman Point Guard!"; while he's going to have occasional lapses, he can't continue turning the ball over 27.8 percent of the time.
And the faces of this team, Cooney and Christmas, are going to have pick this team up like their best friend drunkenly nose-dived into the punch bowl. Wherever this Orange team finishes in March, much of it will fall on their all-too-often lukewarm shooter and a big man who has not been the can't-miss recruit he was projected to be in 2011. With that said, these two Syracuse vets, through early declarations for the draft and injuries, have inherited an entire season of Orange basketball — it's unquestionably their team. The Syracuse basketball history books will look at 2014-15 as "the year Trevor Cooney and Rakeem Christmas did…", and whatever they come up with the next three months will likely become how Orange fans remember them.
This is clearly their team now, especially without McCullough around anymore. Against Wake Forest, we saw the very best of what this Syracuse team could be offensively thanks to their two veterans. Christmas, a career-high 35 points on 13-21 shooting and 9-12 from the free-throw line to go along with 9 rebounds; an unstoppable freight train that blitzed through Danny Manning's attempt to double him and keep the ball out of his hands. Cooney, shot only 6-17, but kept the Demon Deacons honest the entire night, hitting five three's including several in the clutch to finish with 21 points.
It's impossible to expect those two to match that performance day in and day out, but with McCullough gone, and only Gbinije providing any serious offensive threat outside of C&C, that is the Orange's best, nay, only option if they want to be playing basketball late into March.
---